Did you miss the 2016 tax deadline?
With tax seasons coming and going, you probably have some catching up to do. Luckily, you can still file your 2016 tax return if you're one of many taxpayers that are rushing to stay on top of a missed 2016 tax deadline. That being said, start raiding your rooms for all the receipts you need to finish your taxes. If you want to find out if you have a refund coming your way, utilize our 2016 tax calculator.
Read on to find out how to file your 2016 prior-year return.
Can I E-file my 2016 Tax Return?
Since the e-file deadline passed on October 16th, 2017, you cannot e-file your return. ALL taxpayers must paper-file their prior-year 2016 tax return. Regardless, for prior year returns, the IRS requires taxpayers to physically sign their returns. Fortunately, Prior Tax provides you with a downloadable PDF of your tax return. All you need to do is print, sign then mail your return to the addresses that we provide to you.
What do I need?
First, gather all of your tax documents. You will need a copy of your income statements, (W-2, 1099-MISC, 1099-G, etc.) insurance statements, (1095 Forms) and documentation of the expenses you are reporting. If you've lost your income statement or do not have access to them, contact your employer to provide you with a copy. If you still cannot obtain a copy, request an IRS transcript for a detailed summary of all income for the tax year. You can either request this income transcript online or have it mailed to you.
Click here to request your income transcript.
How do I file my 2016 tax return?
You can either download the IRS forms online and manually calculate your refund or let us help you. By choosing Prior Tax to file your prior year returns, avoid the hassle of appointment times or tedious calculations. Your refund will automatically calculate as you enter your tax information into your account. This process is typically completed within one business day. Here's how to use Prior Tax for your missed 2016 tax deadline: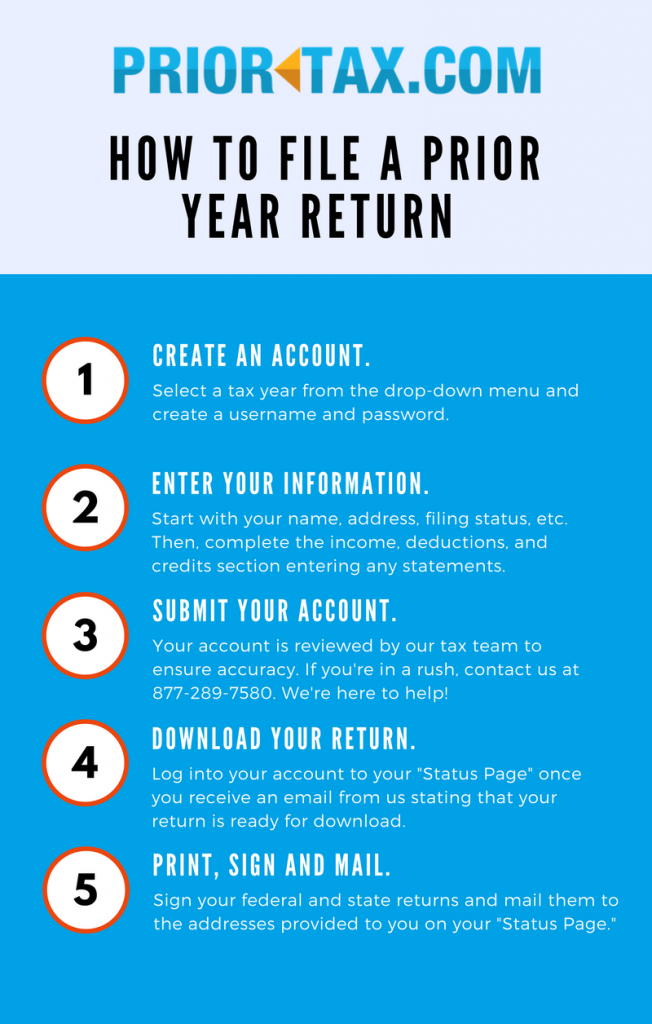 Claim your Refund.
If you do not file a tax return for a refund before the IRS deadline, you will not have any penalties. However, the IRS does have a Statue of Limitations for refunds. You have three years from the original due date of your return to claim your refund. This means you have until April 15, 2020, to claim your 2016 refund. After this timeframe, you cannot receive your refund. We advise that you file your return ahead of time to ensure that you receive your refund.
For more information on claiming a 2016 refund, click here.
Late Filing Penalties
There are two penalties that apply when you don't file on time and have a tax due. Don't forget to act fast because they can add up quickly.
Late filing penalty: If you owe taxes and didn't file your return or an extension, this penalty is 5% of your tax due for each month your return is late. If you file after 60 days after the due date the minimum penalty is $205 or 100% of your unpaid tax, whichever amount is less.
Late payment penalty: If you didn't pay taxes by the deadline even if you filed an extension, this penalty is 0.5% of your tax due for each month it remains.
Combined penalties: If both penalties apply, the 0.5% late payment penalty is waived but you will be charged 5% per month.
Interest: 4.18% (subject to change) of interest is charged each day after the due date of each month until the bill is fully paid off.
Ready to file?
Now that you understand how to file your 2016 prior-year return, what are you waiting for? There's no need to stress about your missed 2016 tax deadline if you start now by creating an account with Priortax! Our customer care representatives are here to help if you have any tax questions.

Tags: 2017 taxes, 2018 tax season, deadline, efile, file, file 2016 taxes, IRS penalties, late filing penalty, late taxes, missed, missed 2016 tax deadline, missed deadline, paperfile, past due, tax refund